With Wimbledon over, and Tour de France finished, we are thirsty for the Commonwealth Games to kick off in Birmingham on the 28th July!
If you're feeling inspired to get active this summer, whether that's working out, trying a new sport or even just watching the games from home (a TV series marathon is definitely also a sport by our standards!), we'll be there helping you get those electrolytes and top up that vitamin C. Turns out vitamin C really does do more than combat cold and flu season!
This summer at the commonwealth games we're taking along our Pressed Coconut Water. It seemed fitting given that it has already won gold for the tastiest drink around 🏆. And that's not to mention the numerous benefits coconut water can have on your workout routine…
We've pulled together some of our top tips to help you get the best out of yourself both on the gym floor, athletics field, basketball court and beyond. And guess what? They all include coconut water! 🥥
1. Top up to train hard
If you're putting in hard shifts in the gym, you may need more than your Recommended Dietary Allowance (RDA) of vitamin C, which is 80-90mg for a UK adult. Not only do you lose vitamin C when you sweat, but it also helps fight fatigue, reduce oxidative stress (when you haven't got enough oxygen in your blood) and speed up recovery post-workout.
*Nuts Fact* Did you know your body can't make or store vitamin C? So, if you don't eat or drink enough containing Vitamin C, you might start to see signs of deficiency after just a few weeks.
However, don't panic! Our Original, Pressed and Choc-o-lot Coconut Water all contain the RDA of vitamin C in just 500ml, making it an easy *and tasty* way to get your daily dose and support your immune system and energy levels!
2. Easy dose it
Before you start super-dosing yourself with vitamin C, however, it's important to be aware that more isn't necessarily better for every activity – in fact, it could actually work against some fitness goals! Too much (like 1,000mg daily) may affect training negatively. The researcher, Andrea Braakhuis, suggested that getting 200mg through five or more servings of fruit and vegetables would be enough to unlock the wider health benefits without affecting your gains. Sipping on refreshing coconut water throughout the day is another way to top up as you go and has the added benefits of naturally occurring electrolytes.
3. Build back stronger
Protein tends to grab the post-workout recovery headlines, but vitamin C plays an important role in helping you rebuild and recuperate too. For a start, it supports protein metabolism – vital for growth and repair. So if you're religious about hitting your post-workout protein window, getting enough vitamin C will help your body make the most of that shake or meal.
It also helps form collagen – the glue that strengthens connective tissues, essential for healthy tendons and muscles – and helps reverse exercise-induced oxidative stress, which can cause cell damage and slow recovery.
4. Defy the DOMS
Delayed onset muscle soreness (DOMS) is often a sign that you've worked your body well during a session. But what you really want after a tough workout is a quick, effective, pain-free recovery that lets you train again when you want, how you want. Vitamin C can help here too, who would have thought! Increased intake before and after exercise can reduce muscle soreness, helping to keep those DOMS at bay.
So that's our handy guide for all those Commonwealth Game athletes, gym bunnies or just those looking to give their bodies some of the good stuff! And here is a great post-workout snack to try.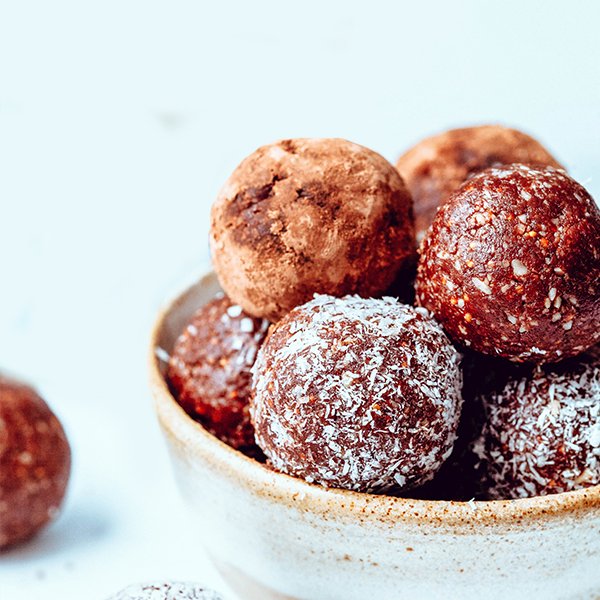 These chocolate and coconut balls are full of goodness and a perfect source of post-workout energy!
Here's what you'll need for the energy bites:
2 tbsp Vita Coco coconut oil
1 cup almonds
1/4 cup dried figs
1/4 cup melted dark chocolate
1/4 tsp sea salt
To coat:
Desiccated coconut
Cacao powder
Instructions
Begin by placing all ingredients for the energy bites into a food processor and process until a slightly sticky dough forms. Make the dough into little balls and coat them in however much-desiccated coconut and cacao powder you desire! Then all you need to do is put them in the fridge to harden, easy as that!