Back in 2019, we were officially certified as a B Corp business, and we couldn't be prouder! You might be wondering what the nut is B Corp…
In a nutshell, B Corp is a community of businesses meeting the highest social and environmental standards across their entire supply chain.  At Vita Coco, we believe in doing good, both for the planet and for the people that inhabit it. We work with all our coconut farmers across the world through our Give, Grow, Guide project – with the mission to raise 1 million farmers out of poverty. The projects focus on empowering the farmers and their families to increase their annual yields, operate and grow sustainably, enhance community facilities and educate the farmers and their children. Alongside positively impacting the farmers who grow the coconuts, Vita Coco also works to support their employees along the whole supply chain, right up to head office through various wellness schemes and employment benefits. Vita Coco strives to be a market leader in inclusivity and diversity and support charities such as Inspire to push this agenda further. If you want to learn more about what B Corp means to us, click here!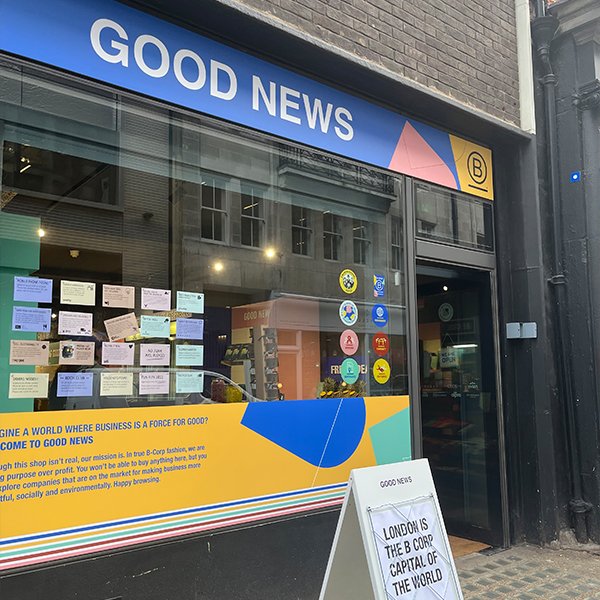 During B Corp month (March) we have been buzzing about the B Corp 'Good News' pop-up shop in central London. It not only looks good, it does good too! Good News exclusively features brands with B Corp status, who have sustainability and community at their core, in a bid to educate consumers on the movement and encourage them to buy better. Visitors can find 300 fresh, chilled and frozen products alongside stories about how they are helping drive change to benefit people and the planet. Boxes of fresh air rather than cigarettes were displayed behind the till of the store at Rathbone Place, London. There was also a free-of-charge vending machine from Healthy Nibbles that uses social media as its currency allowing consumers to give some of the products a try! Alongside Vita Coco, the brands showcased included Cook, Doisy and Dam, Alpro, Tony's Chocolonely, Ella's Kitchen, Pukka tea, and many more!
We had a great day at our B Corp showcase event, where we hosted a range of activations throughout the day to highlight some of our favourite ways to enjoy our products.
The day kicked off with brunch (of course) where we collaborated with Rude Health to make brunch bars wrapped in reusable Beeswax Wraps. These were washed down with Oddbox x Vita Coco smoothies. In case you wanted to try the brunch bars for yourself, here is the recipe!
Rude Health x Vita Coco Brunch Bars
Ingredients
400g Rude Health Coconut Muesli (gf, oats)
4 Ripe Bananas
200g Golden Syrup
200g Vita Coco Coconut Oil
150g Doisy and Dam Chocolate Chips
2tsp Baking Powder
2tsp Cinnamon
Two handfuls of mixed seeds (pumpkin, sunflower, linseed, flaxseed or whatever you prefer)
Method
Preheat oven to 170c
Line a 28cmx 19cm dish with baking paper
Melt together the golden syrup and coconut oil
Mash the banana
Mix in the remaining ingredients, scoop the mix into pan, scatter over a handful of seeds
Bake 30-40 minutes, until risen and golden brown. Leave to cool completely, portion and enjoy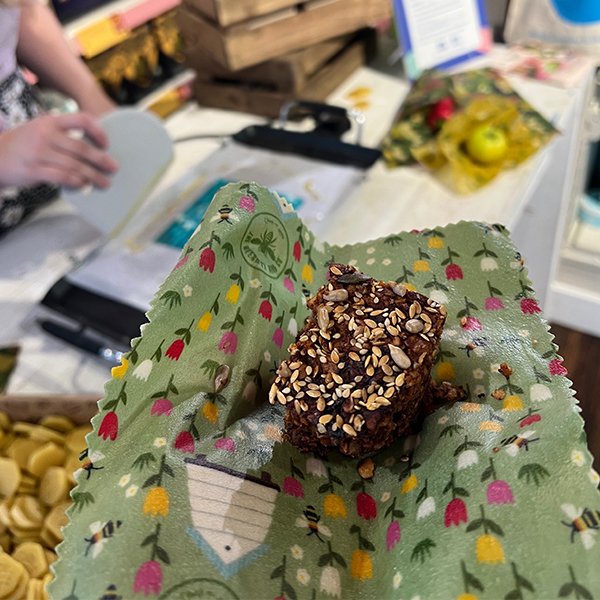 Next up we had some professional hair stylists giving out complimentary hair assessments, scalp massages and hair styling using our Vita Coco hair ranges. What better way to grab life by the coconuts, than with our vegan & cruelty-free haircare! Our ranges cater for different haircare needs but with so much choice, it can be hard to decide which one to choose. If you suffer with brittle ends, damage and breakage, the Repair Range is for you whereas if your issue is dryness and dehydration, definitely opt for the nourish range. Our scalp range will gently cleanse the hair whilst soothing and nourishing the scalp, helping itchy and flaky scalps. You'd be nuts not to try them!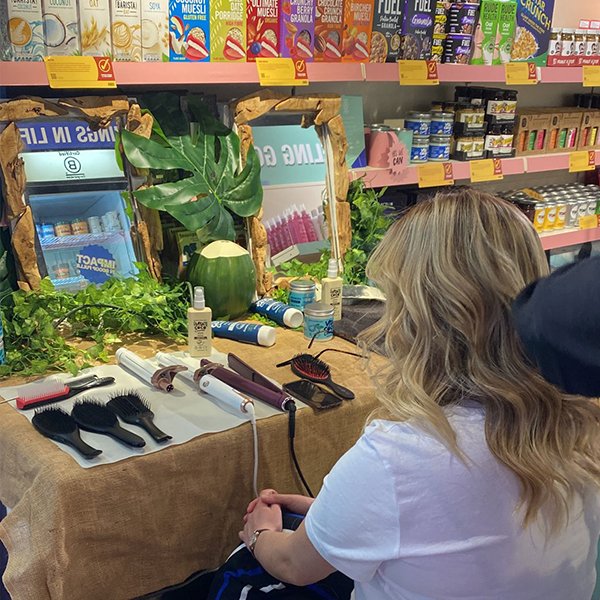 To end a jam-packed day, we finished up with Toast and Freestar beers and Vita Coco x Hattiers rum cocktails and chocolate tasting with Divine…what better way to start a Saturday night in Soho! The cocktails were delicious and packed full of pineapple and our impossible to hate, pressed coconut water! They are super easy to make too, recipe below if you want to give them a go!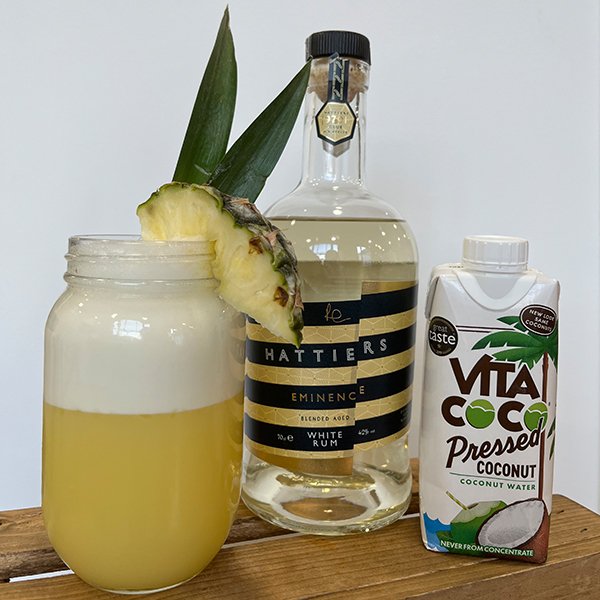 Vita Coco x Hattiers rum cocktails
Ingredients
1/2 a cup frozen pineapple
250ml Vita Coco Pressed
25ml Hattiers Eminence rum
Method
Place frozen (or fresh!) pineapple, coconut water and rum into a Nutri-bullet and blend.
Pour over ice (if using fresh pineapple)
Add a slice of fresh pineapple to the side to garnish!