Who would have thought we are already in April. Something happening throughout the whole month is Ramadan, and it is well underway!
If you happen to be fasting, Vita Coco wishes you Ramadan Mubarak! We want to help you and your family in any way we can by sharing some top tips from some well-known people in the Muslim community.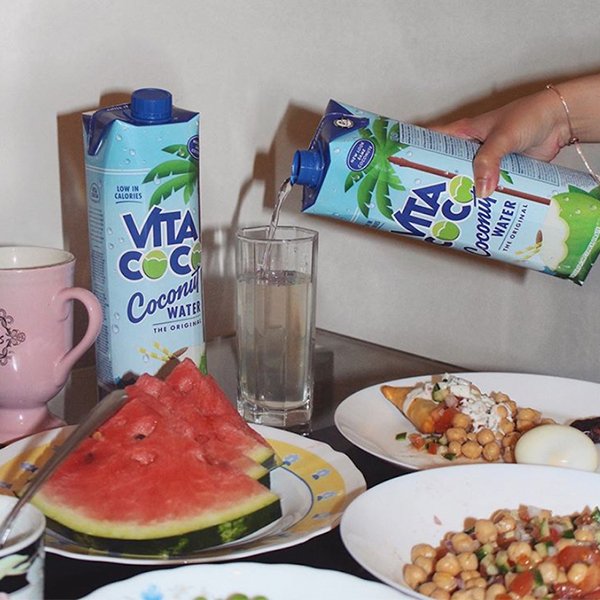 Top Tip 1)
Thirst Aid – Dehydration is a big challenge for everyone participating in Ramadan, with energy levels being impacted as the day progresses. Nafisa Isan, a medical PhD student, told us her greatest tip to help with this was "to avoid salty foods at suhoor, as this can leave you very dehydrated during the day." She even suggests substituting those salty foods with something like oats or bananas which keep you fuller for longer.
Top Tip 2)
Avoiding oily foods – Another tip to help with dehydration was suggested by Islah Abdur-Rahman (actor, BBC radio presenter…@mistahislah on instagram!). He advised to avoid oily foods and instead, to break the fast with dates, water, or coconut water! Islah told us "A lot of people think drinking water for suhoor will help their fast, but you'll end up draining it out. So instead, I eat water fruits such as watermelons, cucumbers, celery sticks with hummus etc. that contain the water I need but digest slower to last my next fast". It's interesting that everyone has an individual spin for iftar and suhoor. What foods do you and your family avoid or gravitate to you at iftar or suhoor?
Top Tip 3)
A coconutty iftar drink – Someone you might have seen on our Instagram feed, is Hashu Mahammed, aka, Smashbengali who shared with us a recipe he likes to make for his family 1 hour before iftar.
Smashbengali's Coconut water Refresher
Handful of ice
500ml Cold water
500ml Vita Coco Pure Coconut Water
1/2 Orange (sliced)
1/2 Grapefruit (sliced)
1/4 lime (sliced)
Method
Combine all ingredients together into a large pitcher and leave to infuse for 1 hour before iftar, garnish as you please and enjoy with all your family!
It sounds so deliciously refreshing, we will be sure to giving it a try!  If you would like to try this too, please tag us on Instagram @VitaCocoEU, we can't wait to see your creations!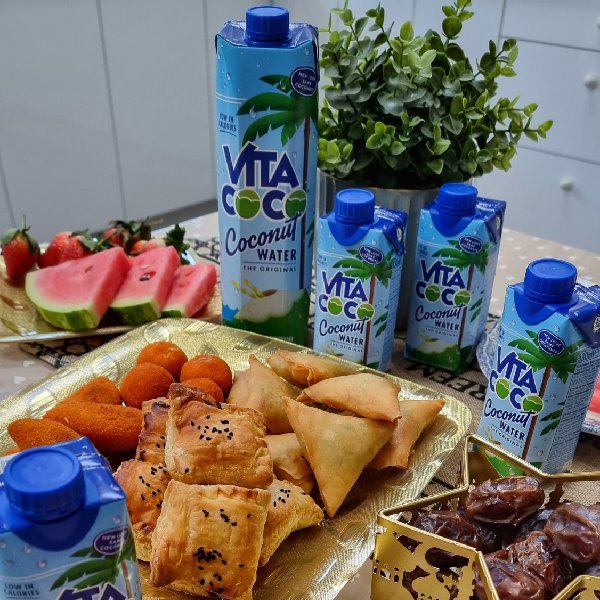 At Vita Coco we're big on self-care and are big believers in its impact on our overall health and wellbeing. Ramadan can be a testing time for body and mind, but equally, to quote Dr. Iman Tohami (Doctor of Clinical Psychology, known on Instagram as @Saidintherapy): "Ramadan gives us the chance to reflect on our habits. It can give us the ability to avoid unhealthy behaviours for an entire month and can be a starting point towards starting over and building up resistance to triggers, while also addressing our urges and impulses in a healthy manner."
No matter where or how you are carrying out the month of Ramadan, Vita Coco wishes you a healthy and happy one. Ramadan Kareem!
Ramadan is not only about giving up food and water between sunrise and sunset. It's also about giving back to the community. One way this happens is through zakat, chariey, one of the five pillars of Islam.