There's lots of things that are possible to hate in this world. Mondays. Grey Weather. Hangovers. Being too cold. Being too hot. Having a glass half empty.
But there are lots of things Impossible to Hate too. Extra Bank Holidays. The return of festivals. A summer of sport. Hangover soothers. A cold drink on a hot day. A glass half full. Specifically, half full of Vita Coco Pressed.
We believe that our Pressed Coconut Water is the tastiest, most impossible to hate drink on the planet. But we get there are other things in life too. Pressed is just a good place to start.
No matter your plans, whether you're picnicking, street partying or just having a relaxed one, we're here to make this bank holiday even more *impossible to hate*. We've got a royal line up of coconutty nibbles fit for a Queen (or king), including a refreshing Platinum Jubilee Coco-Cooler that we're totally obsessed with. It tastes just like summer feels.
Platinum Jubilee Coco-Cooler
This refreshing drink is fool proof. Red, white and blue…we even nailed the colour scheme here. The perfect street party thirst quencher that your neighbours will be queuing around the block just for a glimpse.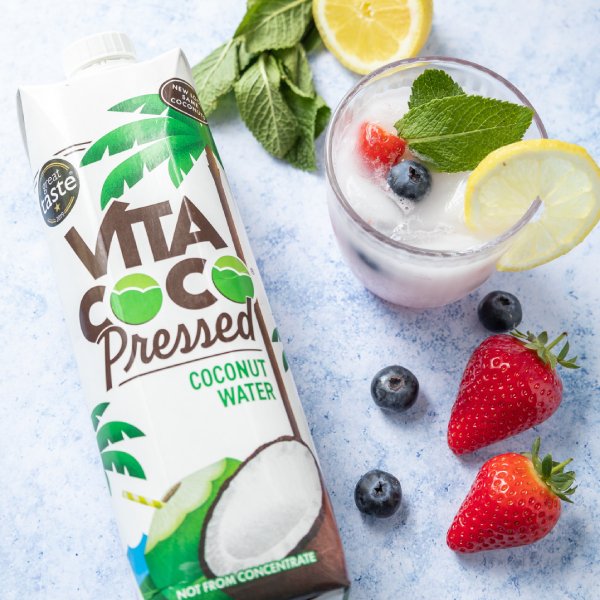 Serves: 4
Ingredients
1L Vita Coco Pressed Coconut Water
150g raspberries
½ lemon, juice of
1 sprig mint
A few blueberries to garnish
Ice
Optional: 1-2 tbsp maple syrup to sweeten
Instructions
Mash the raspberries in a bowl with a fork. If you aren't a fan of seeds, strain the mixture through a sieve.
Pour the Pressed into a jug.
Add the ice, mashed raspberries, lemon and mint leaves and mix well.
Mix in maple syrup to sweeten if desired.
Pour into glasses and garnish with extra mint and a few blueberries.
Victoria (or Elizabeth) Sponge Fingers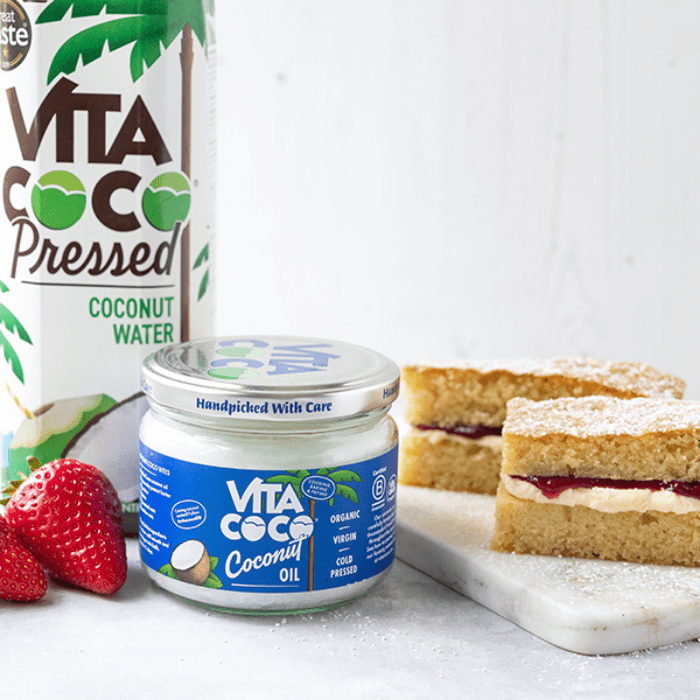 Who doesn't love a Victoria sponge cake? This weekend we're giving them a rebrand with Coconut oil and coronating them 'Elizabeth Sponge Fingers'.
Serves: 10-12
Ingredients
Sponge:
200g self-raising flour
200g caster sugar
180g coconut oil
4 eggs
1 tsp vanilla extract
2 tbsp Pressed coconut water
Filling:
150g raspberry jam
Whipped cream
200ml double cream
Instructions
Preheat oven to 160. Line a square baking tin with parchment paper.
Melt the coconut oil and allow to cool slightly.
Add all the sponge ingredients to a mixer or bowl and mix until smooth.
Pour the batter into the pan and spread evenly.
Bake for 30-40 minutes, until golden and springing back to the touch.
Remove from the tin and allow to cool completely.
Once cool, slice in half sideways (making two thinner cakes).
Either whip the cream until stiff
Spread the cream over the bottom slice of the cake.
Spread the jam on top.
Place the top cake on top and slice into even fingers.
Dust with icing sugar if desired and serve.
Regal Fudge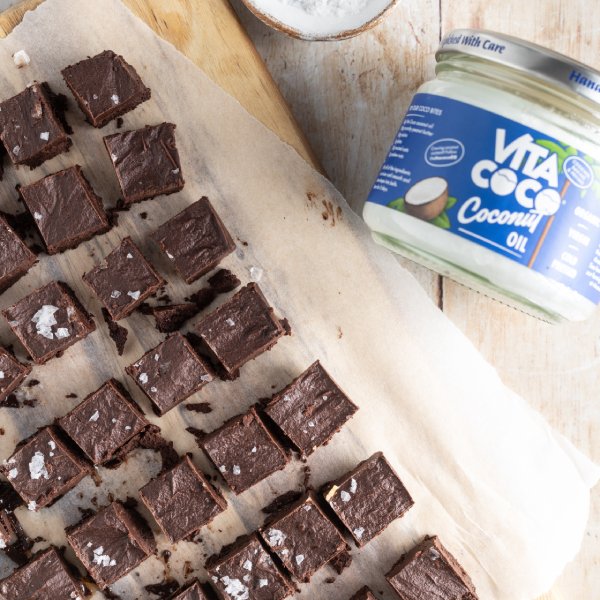 If you're looking for an easy one that's guaranteed to be a crown pleaser (A.K.A impossible to hate, have we over done it yet?), this simple fudge recipe is the one for you. It will probably make you say 'Mmmmm'.
Ingredients
250ml coconut oil
125ml maple syrup
1 tsp vanilla extract
100g cacao powder
1 tsp sea salt flakes
Instructions
Melt the coconut oil, maple syrup and vanilla extract together in a bowl.
Gently mix the cacao powder until smooth.
Line a small square or rectangular dish with parchment paper.
Pour the mixture into the dish, set aside and allow to cool for 15 minutes.
Sprinkle over the sea salt.
Transfer to the fridge and chill for at least 1 hour.
Lift out of the dish using the parchment paper, slice and serve.
Store in the fridge.
It goes without saying, but if you fancy cooking up a storm, don't forget to tag us, @VitaCocoEU!