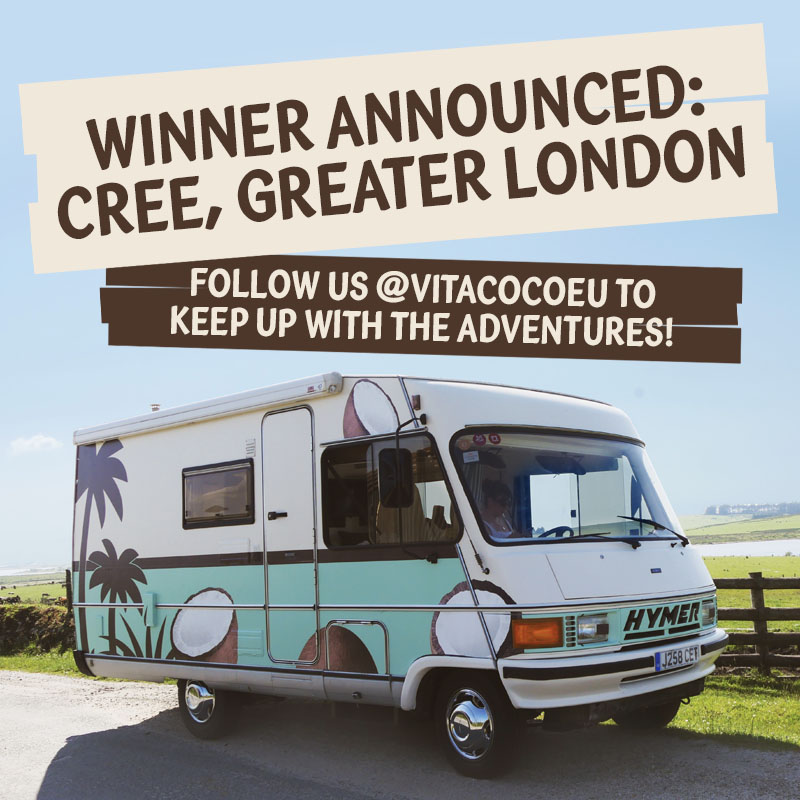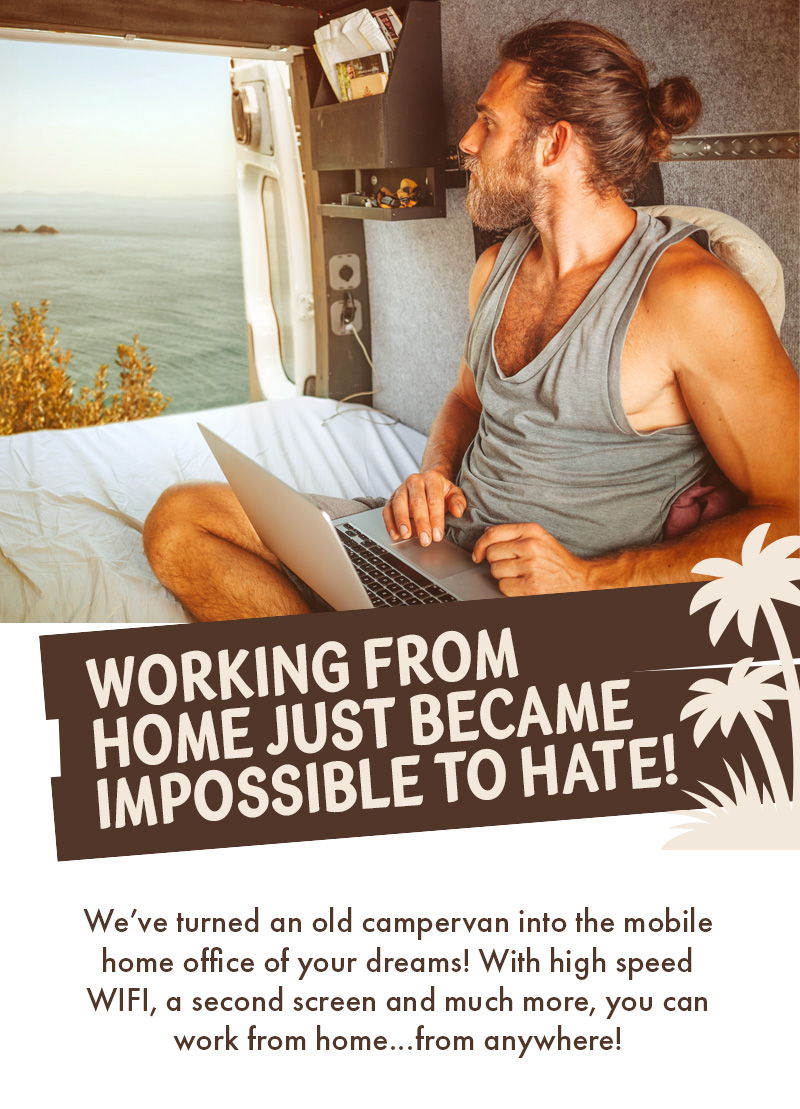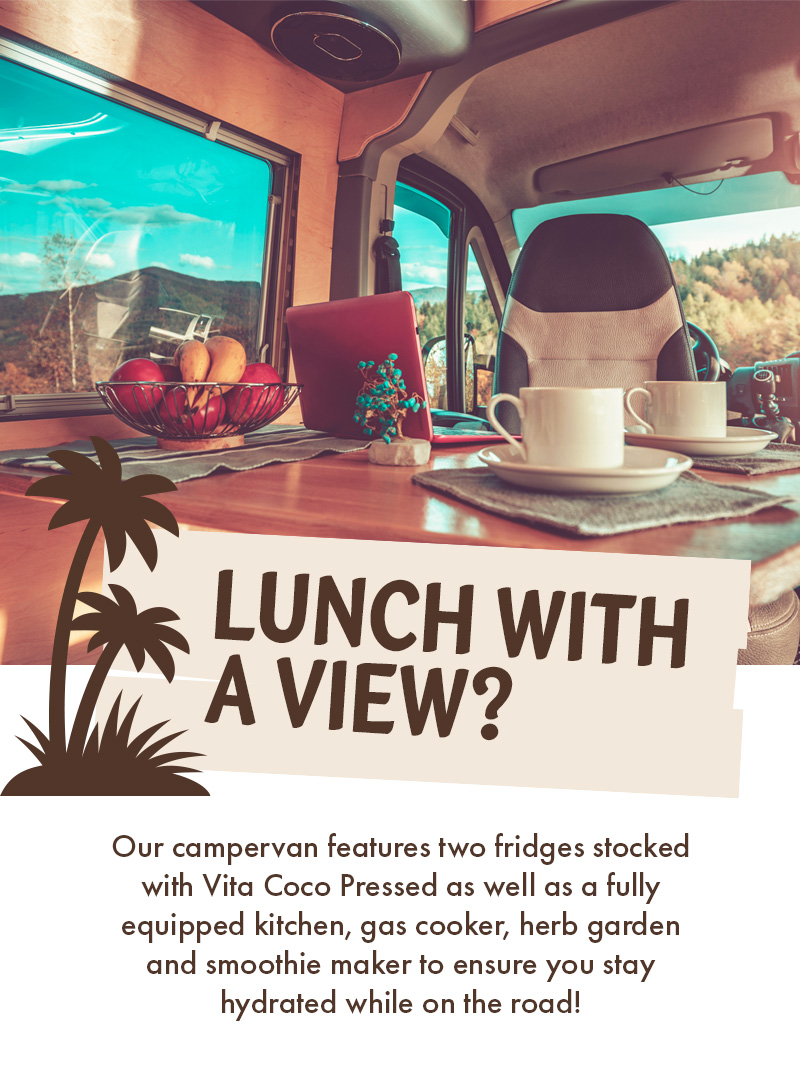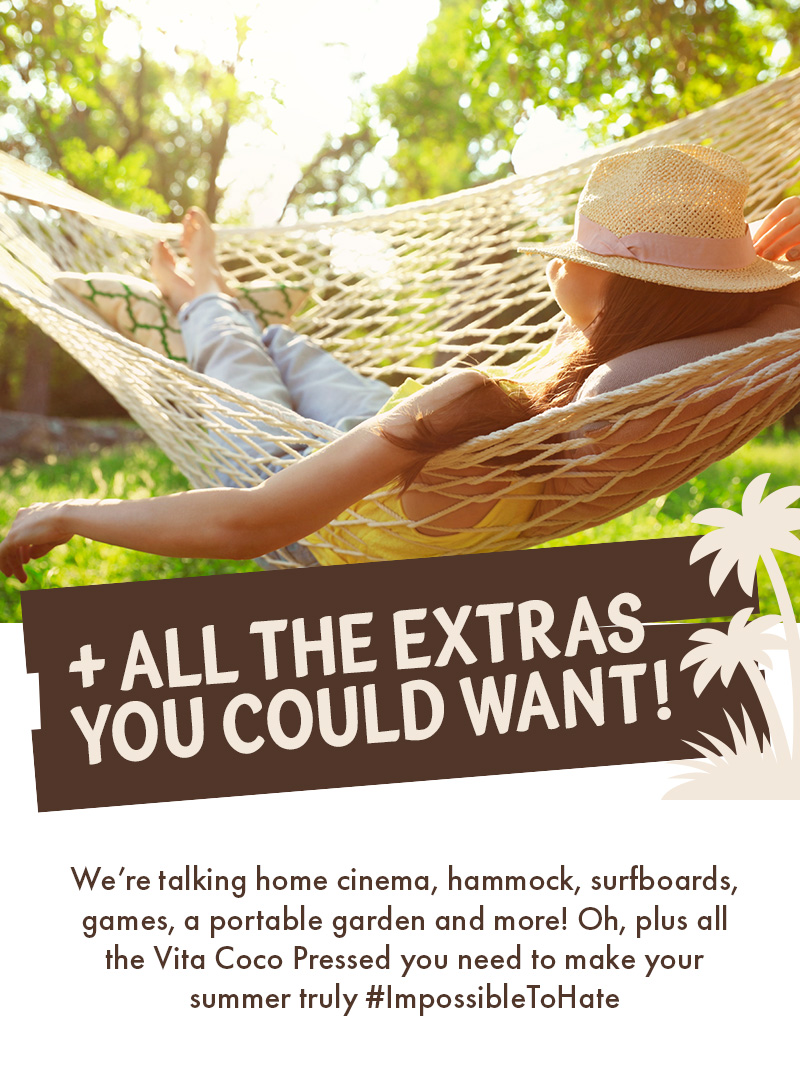 T&Cs & FAQs
UK 25+ only. No purchase necessary. Between 02/08/21 & 05/09/21. Visit www.vitacoco.co.uk/impossibletohate.list and upload your video of how you would use the van to make work impossible to hateto be entered into the competition. Prize: Use of 1 x Refurbished Hymer b564 Motorhome 1991 for 1 year. Internet access required. Max 1 entry per person. Must have standard clean UK driving license to enter. Visit www.vitacoco.co.uk/impossibletohate.list for full T&Cs & prize details. Promoter:Vita Coco (ALL Market Europe Ltd)
FULL TERMS AND CONDITIONS
YOU DON'T NEED TO PURCHASE OR PAY ANYTHING TO ENTER THIS PROMOTION. IF YOU DO PURCHASE FROM US, OR MAKE A PAYMENT TO US, THIS WON'T INCREASE YOUR CHANCES OF WINNING
What You Need To Know:
We love running promotions for you guys and we want to be as clear as possible on how you enter and the winner is selected. Please read the nuts and bolts below for the full details.
1. We know that there are Vita Coco lovers all around the world, but this promotion is only open to residents of the UK aged 25 or over who hold a full, standard, unendorsed, clean UK driving license for more than 3 years. So that we are completely fair, employees of the Promoter, its agents, or anyone professionally connected to this promotion is not allowed to enter.
2. You don't have to buy anything to take part in this promotion, but you do need access to the internet and the ability to take and upload a video to the internet.
3. Promotion Period: You can enter between 00:01 BST on the 2nd August 2021 and 23:59 BST on the 5th September 2021.
4. To Enter: Entering this promotion is simple, just visit www.vitacoco.co.uk/impossibletohate.list and complete the online form with your details (name and email address) and uploading a 60 second video telling us how you'd use the van to make work impossible to hate to be entered into the Competition. You are encouraged to upload the video to your social channels however this will not improve your chances of winning.
5. You may only enter once during the Promotion Period. If you do happen to enter multiple times, we'll count your first entry, but any others will be ignored.
6. Prize: 1 winner will win 1 x Refurbished Hymer b564 Motorhome 1991, Engine size: 2500 to be used for 1 year from date of collection.
7. Further Prize Details and Conditions:
a. The winner must be aged 25 years or over at the time of entering the Prize Draw.
b. The winner must have held a driving licence for more than 3 years.
c. The winner must have and must show a valid, unendorsed driving license free from any points prior to collecting the Prize.
d. The winner will be asked to prove they are a resident of the UK.
e. The winner will be required to sign a waiver/disclaimer and may need to sign a contract prior to collection of the vehicle, which will cover the use, enjoyment and responsibility of the vehicle.
f. The Prize will be available for collection only. Details of the collection will be clarified during the winner notification process.
g. The Prize includes full comprehensive insurance cover for the vehicle for a period of 12 months.
h. The Prize will be taxed for no more than 12 months from the date of registration.
i. The Prize includes a WIFI Sim for a period of 12 months, 2 unlimited data sims included (dual sim), Transportation WIFI router, 2x LTE-A Pro Modems and 1x Ethernet & Antenna.
j. Maintenance, tyre, services and running costs of the vehicle are the responsibility of the winner from the date of accepting the Prize. This date will be confirmed with the winner in writing following winner acknowledgement of the prize.
k. The vehicle cannot be used for commercial purposes.
l. The vehicle may not leave the borders of the United Kingdom during the 12 month period.
m. The vehicle must be returned in a similar, clean and undamaged condition to what it was received in subject to reasonable wear and tear.
n. Any damage caused to the vehicle during the 12 months will be for the account of the winner.
o. The winner will be liable for all costs and expenses not stated relating to the use and enjoyment of the prize, including but not limited to petrol, parking, accommodation, permits and congestion charges and any parking tickets and fines.
p. The Prize must be taken as stated and no compensation will be payable if a winner is unable to use the Prize as stated. The winner will be liable for all costs and expenses not stated relating to claiming the prize.
q. Any pictures depicting the prizes on any media including press advertisements, posters or TV commercials are indicative only and the actual prize may vary from the depictions. The Promotion does not constitute an endorsement or recommendation of the product being offered as prize.
r. You must only upload videos that do not infringe or violate the rights of any third party, including but not limited to, ownership, copyrights, trademarks, patents, logos, licensing rights, rights of publicity or privacy or any other intellectual property rights.
s. We will reject entries which, in the reasonable opinion of the Promoter include the names, likenesses, photographs, or similar of any individual without their express permission.
t. Anyone featured in your video must be aged 18 or over and have provided their positive consent prior to entry.
u. You must agree to a confidential background check or to provide suitable information to answer questions to confirm eligibility and help ensure that awarding the Prize will not bring the Promoter into disrepute as determined by the Promoter at its sole discretion. This will include all relevant banning orders or related incidents regarding you at any venue as required by the government, the police or relevant law enforcement agencies or organisations. Part of this process may also include questions during the claim process and a review of personal information sourced from data available in the public domain. For the avoidance of doubt, if required by us, you shall provide identification satisfactory to the Promoter (such as driving licence or passport) and agree to be subject to a social media insight check and civil/criminal searches. If the Promoter is not satisfied (at its sole discretion) with: (i) the results of any searches, (ii) any background checks, or (iii) any of the other information provided by you, you will immediately be disqualified.
v. You agree to grant the Promoter in perpetuity a non-revocable, worldwide, royalty-free licence to use the copyright and other intellectual property rights vesting in your entry for all purposes connected with this Promotion, including but not limited to display on the Promoter's website, social channels, in any publicity, advertisement or case study carried out by or on behalf of the Promoter in any manner or medium whatsoever, including print, broadcast or the internet and any other website of the Promoter or its agents/contractors choosing and use of the entry, or part(s) of the entry, in marketing materials relating to this Promotion ("the Media").
w. You agree to the inclusion, publication, reproduction and/or other use of your entry as well as your name, voice, statements and/or photograph or video or other likeness, without further notice or compensation, in any Media.
x. You agree to grant the Promoter the right to adapt, modify, and use any or all parts of the entry video. You also agree to grant the Promoter and its agents/contractors the right to moderate, modify or remove any entry if it is deemed unsuitable, in whole or in part, for display on the Promotion website or in any materials relating to the Promotion. You hereby represent and warrant that you have all rights necessary to grant the licence and rights provided for in this paragraph and that all materials forming part of your entry to this Promotion, and any use of such materials by or on behalf of the Promoter, comply with all applicable laws, rules, and regulations and do not infringe or otherwise violate the intellectual property or other rights of any third party.
8. Winner Selection: All valid entries received during the Promotion Period (subject to moderation) will be independently judged by PromoVeritas within 5 working days from the close of the Promotion Period to select 50 shortlisted entries based on the following criteria:
a) Creative flair, storytelling and grasp of what good content looks like;
b) Trend setter;
c) Personality and Vita Coco factor.
The shortlisted entries will then be judged by a panel of judges, within 5 working days from the close of the Promotion Period to select 1 winner based on the same criteria.
9. Contacting the winner: We'll contact the winner via the email address that you provided with your entry within 7 working days of Winner Selection. The lucky winner will need to respond to us within 10days from the point of contact. Upon the request of the Promoter, the provisional winner will be required to complete and return a contract which governs the use, enjoyment and responsibility of the vehicle within five (5) working days after the date such Contract is sent to the potential winner, in accordance with Promotor's instructions. If the winner doesn't respond within the time given, or return a signed contract we reserve the right to disqualify them. In the event that the winner doesn't respond or return a signed contract, the Prize will be awarded to a reserve winner. We'll select 3 reserves in the same manner as above, and the time required for reserves to respond may be shorter. This will be detailed while notifying a reserve winner. In the event no winner responds, we reserve the right to not award the Prize.
10. Prize Acceptance: If you are our lucky winner, you will be notified within 28 days of acceptance of the Prize to arrange delivery of the Prize. In the unlikely event that the Prize has not been delivered within 28 days of Prize Acceptance, you will have a further 28 days to inform the Promoter by emailing us at hello@vitacoco.com. In the event that you do not inform the Promoter within this time frame, the Promoter will reserve the right to not reissue the prize or limit its value at their sole discretion.
11. Moderation: We can't accept any entries which we think:
a. Contain any content that is likely to be considered offensive by us or could reflect negatively the name, reputation, or goodwill of Vita Coco or any brand partner;
b. Include trademarks, logos, or copyrighted material (excluding Vita Coco) not owned by you or used without the right holder's prior written permission (including famous names, company names, etc.);
c. Defames, misrepresents, or insult other people or companies, including, but not limited to Vita Coco (including its partners); or
d. Promotes any political agenda.
12. You can't transfer the Prize to someone else or exchange it for a cash alternative. If, for reasons we can't control, the Prize is no longer available, we'll offer you an alternative Prize which we hope you'll still love but which will definitely be of equal or greater value.
13. Provided no objection is received, the surname and county of residence of the winner will be made available by the Promoter at www.vitacoco.co.uk/impossibletohate.list the month of the end of the Promotion Period for a period of 8 weeks. The winner can object to their surname or county of residence being published or request for the amount of information being published to be reduced during the winner notification process. Without prejudice, we will provide this information to the Advertising Standards Authority on reasonable request.
The Legal and Other Bits

No one likes the small print, but we need to let you know about some other important stuff too and make you feel comfortable that we run our promotions properly, fairly (and legally!):
14. Data Privacy: We care a lot about the security of your personal data and it will be held in accordance with our Privacy Policy here: https://www.vitacoco.co.uk/privacy-policy.list and will only be used for the purposes of this promotion save where you have opted in to receive communications from Vita Coco. We will only share your data with our Fulfilment Partners for the to fulfil this promotion.
15. We may request that the winner participates in publicity arising from the Promotion. The winner is under no obligation to participate and may decline this request. Participation is at the winner's discretion and is not a condition of Prize Acceptance.
16. We reserve the right to verify the eligibility of entrants. We may require such information we may consider reasonably necessary for this purpose and a prize may be withheld unless and until we are satisfied with the verification.
17. We can't take any responsibility for entries which are lost, delayed, corrupted, damaged, misdirected or incomplete or which cannot be delivered for any technical, delivery or other reason. Proof of sending will not be accepted as proof of receipt. We can't guarantee continuous or secure access to the microsite.
18. We believe in fair play. Bulk entries made from trade, consumer groups, syndicates or third parties will not be accepted and we will not accept cheating in any form including the use of macros or other automated means of entry, masking your identity by manipulating IP addresses, using identities other than your own and any other behaviour that falls outside the spirit of the promotion. If you're found to be cheating, you will be excluded. Entrants are not allowed to enter using anonymous email services such as, but not limited to, GuerillaMail, Dispostable or Mailinator.
19. If someone or something tampers with this promotion in some way whether by fraud, technical failures, system errors or other issues, including any such failure which isn't within the control of Vita Coco or our agencies, Vita Coco and our agencies will not be responsible if the promotion or the Prize event not being capable of running as planned or for the non-inclusion of entries. Proof of submission of entry is not proof of receipt of entry.
20. Unfortunately, if you suffer any loss or damage that arises out of or in connection with the competition or the Prize itself (including, without limitation, indirect, special or consequential loss or loss of profits), expense or damage which is suffered or sustained (whether or not arising from any person's negligence) in connection with this promotion or accepting or using the Prize, except for any liability which cannot be excluded by law, Vita Coco won't be liable for this. Nothing will exclude our liability for death or personal injury as a result of our negligence.
21. We will not be liable for any failure to comply with our obligations or any delay in performing our obligations within these terms and conditions If an act, omission, event or circumstance occurs caused by (but not limited to) global or regional health crises, weather conditions, fire, flood, strike, hurricane, industrial dispute, war, terrorist activity, hostilities, political unrest, riots, civil commotion, epidemic, pandemic, famine, plague or other natural calamities and acts of God or any other circumstances beyond our reasonable control.
22. If this promotion can't run properly because of tampering, unauthorised intervention, fraud, dishonesty, technical failures, or any other causes beyond our reasonable control which affects the running, administration, security or fairness of this promotion, we reserve the right to disqualify any person involved. We will also have the right to cancel, modify or suspend the promotion.
23. We may refuse to award a Prize in the event of any entrant's fraud, dishonesty, breach or non-entitlement under these Terms & Conditions or seek recovery of its value if the Prize has been awarded.
24. If any provisions of these Terms & Conditions are judged to be invalid, illegal or unenforceable, this will not affect or impact the continuation in full force and effect the remainder of the provisions.
25. By entering you confirm that you have read and agree to these Terms & Conditions.
26. In the event of a discrepancy between these Terms & Conditions and the details in any promotional material, the details in the Terms & Conditions will prevail.
27. These Terms & Conditions are governed by English Law and shall be subject to the exclusive jurisdiction of the English and Welsh Courts.
1. What is this competition all about?
This competition provides someone a chance to win a campervan for a year, allowing them to work from anywhere – the beach, a lake, the forest, you name it. It comes with festival grade Wi-Fi, an extra screen for your work set-up, a surfboard, paddle board, home cinema, portable herb garden and, of course, unlimited supply of Vita Coco Pressed to ensure your experience is truly Impossible To Hate!
2. What included in the campervan?
Great question! Well it is an Impossible To Hate experience, so we have everything you might need in the van. This includes, but is not limited to, a fully equipped sleeping area, kitchen, bathroom and workspace, second screen, TV, home cinema projection system, surfboard, paddleboard, portable herb garden…and of course, a whole year's supply of Vita Coco Pressed!
3. Why do I have to provide contact details?
We will use this information to contact you with a confirmation message if you are a winner. If you agree, we will also occasionally send you other offers and news from Vita Coco.
4. How old do I have to be to enter?
You will need to be 25 years of age or over with a full clean driver's license
5. How will this all work? How do I enter?
It's very easy to enter! Just head over to www.vitacoco.co.uk/impossibletohate.list and click the 'enter now' button. You will be asked to submit a short video (up to 60 seconds) explaining how you would use the van to make work impossible to hate. We would love it if you included Vita Coco Pressed in your entry and share it on your own social channels! Once it's submitted, you will be contacted in early September if you are the lucky winner.
6. What model is the camper van?
It's a refurbished Hymer b564 Motorhome 1991
7. How do I know when I've won?
If you are the lucky winner, we will contact you by email using the address you provided. Be sure to check your inbox, as you will be given 14 days to accept your prize!
8. How are the winners selected?
We are using an independent judging panel to select the winner. They are selected based off creativity of entry and showing that you would be a great (unofficial) Vita Coco ambassador for the whole year whilst owning the van!
9. How many times can I enter?
You are allowed to enter only once. If you do enter twice, we will only accept your first entry.
10. How long is this competition running for?
The competition will be running for 5 weeks, from 2/8/21 until 5/9/21
11. Can I still enter if I'm not a resident of Great Britain?
This promotion is only open to residents of Great Britain. Though do keep your eyes peeled for other competitions we may run around the world!
12. I don't have access to the internet, can I still enter the promotion?
Unfortunately, you will need access to the internet to enter this competition. You need to head to www.vitacoco.co.uk/impossibletohate.list to enter.
13. What if I have any questions?
Please contact hello@vitacoco.com and we will be happy to answer any questions!
14. Where can I find the terms and conditions?
Terms and conditions can all be found on our website at www.vitacoco.co.uk/impossibletohate.list
15. Do I need a driver's license?
Yes, you need a full clean driver's license, have been driving for 3+ years, with the ability to use a manual gearbox
16. Will I be charged for entering?
No, there is no charge to enter.
17. What are you doing to help prevent consumers entering fraudulently?
We take fraudulent entry very seriously and implement processes and checks to ensure that everyone has a fair chance of winning. This includes checking uniqueness of details on entry and a thorough manual check of winners after they are selected to identify individuals who may not comply with the Terms and Conditions.

18. What if I don't respond to the winner notification message in time? Can I still claim my prize?
Due to storage and supply requirements, we have had to state in the Terms and Conditions that if a winner does not respond to communications within the 14 working days of initial contact, we reserve the right to disqualify that winner and allocate that prize to an alternative winner selected in the same manner.
19. When will my prize arrive?
Following confirmation of eligibility and address, we will endeavour to get your prize delivered to you as soon as we can. However please allow 28 days from providing your address
20. Do I need to download any additional software?
No additional software is required aside from a device with internet access. We are using Google forms to collect the entries.
21. Are there any other restrictions?
This Promotion is open only to residents of Great Britain, excluding anyone professionally connected with this promotion. You also have to be aged 25 or over to be covered by the insurance policy and have been driving for over 3 years.
22. I've won but I don't want the camper van, what do I do?
If you no longer wish to be the winner of this competition, please contact us at hello@vitacoco.com
23. What devices can I view the competition window on?
You can view the website on any internet-enabled device such as a smartphone, tablet, laptop or desktop computer, although you will need to be using the latest browser and OS version to ensure compatibility. You will need an email address to register to enter the competition so that you can be contacted in the event you win the competition
24. My question hasn't been answered here, who can I contact?
If your question has not been answered, please contact hello@vitacoco.com
25. What about insurance?
Vita Coco will pay for the insurance of the campervan for 1 year. The van will also have a full year's MOT and breakdown cover with the AA.
26. How can I make my entry stand out?
We are looking for creativity and flare in your video – someone who is going to make the most out of this Impossible To Hate experience! The ideal winner will love Vita Coco Pressed!
We are so excited to receive your entry! Now it's time to make work Impossible To Hate!


Stay up to date on Social Media